Family Fun Park
Soaring Eagle Zip Ride
Open limited hours
Children 42″ – 48″ must be with an accompanying adult
Runs 400 feet back and forth
80′ above the ground
Two-seater zip ride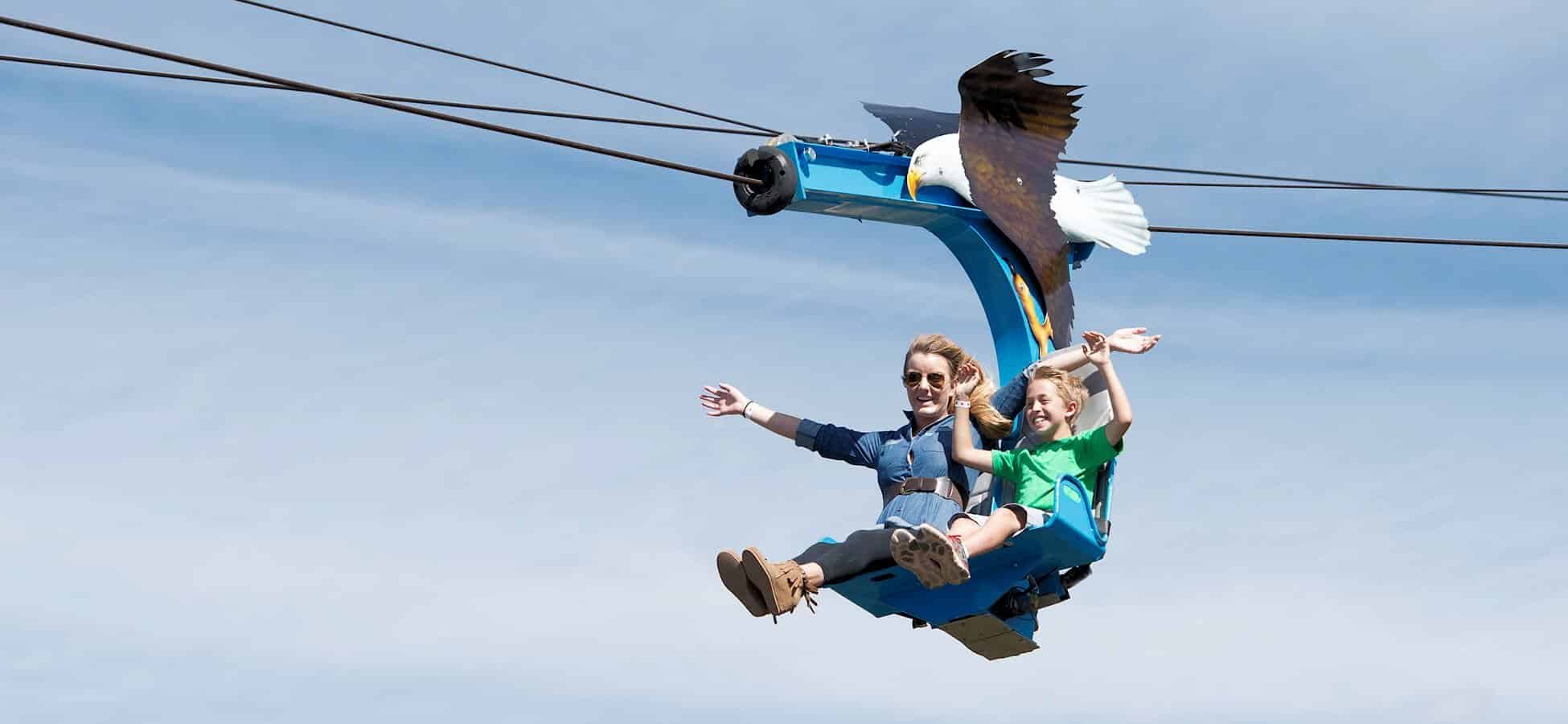 Take a ride on the Soaring Eagle Zip Ride, where you'll experience the exhilaration of soaring through the air like an eagle! This thrilling attraction will take you on an exciting ride that you won't soon forget.
As you climb aboard the ride, you'll feel the anticipation building. Once seated, you and a friend will be strapped into the secure seats, ready to take off. As the ride starts, you'll be launched backwards, reaching speeds of up to 35 mph as you zip along a 400-foot-long track that is suspended 80 feet above the ground.
After a brief, stationary moment, you will be launched forwards. As you soar through the air, you'll feel the wind rushing through your hair and the adrenaline pumping through your veins. The panoramic views of the surrounding area will take your breath away, as you glide through the air like a bird.
The Soaring Eagle Zip Ride is the perfect attraction for those looking for an exciting adventure, and the best part is that you can share the experience with a friend. The ride is designed to accommodate two people, so you can enjoy the thrill of the ride with a friend or family member.
So what are you waiting for? Come and experience the Soaring Eagle Zip Ride, an unforgettable adventure that will leave you feeling like you're flying. Whether you're seeking an adrenaline rush or simply want to enjoy the views from a unique perspective, this attraction is not to be missed.
Must be at least 48" tall to ride alone and at least 42" tall to ride with an accompanying adult. Single rider weight limit is 300 lbs. Total weight capacity with 2 riders is 450 lbs.