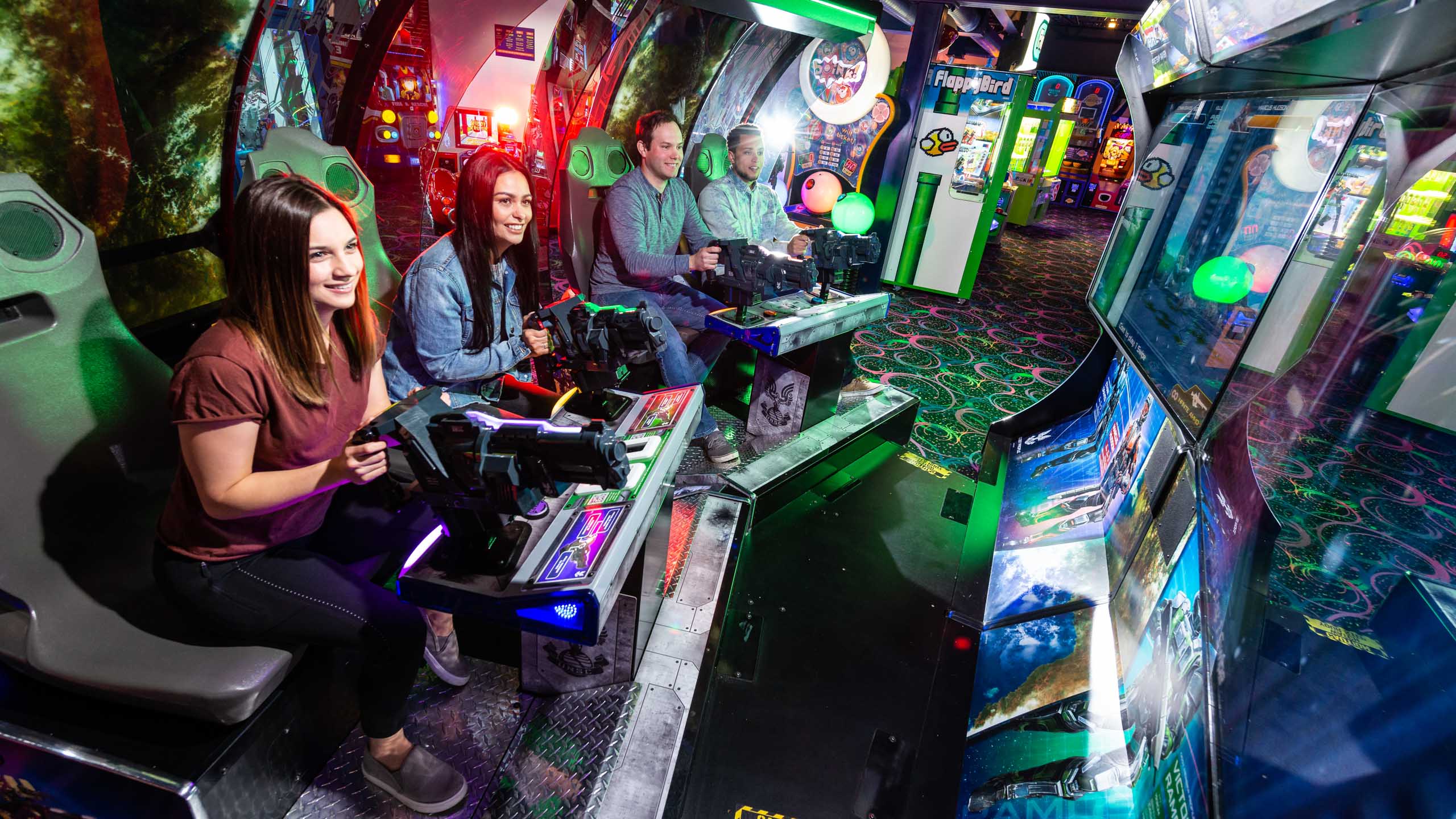 Do you allow outside food?
We do not allow outside food or drinks with the exception of individual water bottles. Reserved
birthday parties
may bring cake and ice cream.
Where can I get food on-site?
The Garden Fresh Grill and Pizzeria serves items such as burgers, chicken strips, appetizers, salads, and pizza. It is located across from the bowling alley. Soda fountain drinks and ice cream bars are also available at the cash register in
the arcade
.
Beer, wine, and canned cocktails are available at the Garden Fresh Grill. Guests are limited to purchasing one alcoholic beverage per person per transaction. ID is required for each sale.
Our pizzas are approximately 15" and are cut into 12 slices.
What time does the Garden Fresh Grill stop serving food?
The Garden Fresh Grill and Pizzeria stops serving cooked food 30 minutes prior to Triple Play's closing time. Ice cream bars, candy, chips, and drinks are still available until close.
Do you have items to meet my dietary restrictions?
We offer gluten-free pizzas and do have menu items that can meet a variety of restrictions. If you are concerned, the person with the dietary restrictions may bring a personal meal.
Can I bring food and drinks from the Garden Fresh Grill into the waterpark?
You are welcome to bring anything you purchase from the Garden Fresh Grill into
the waterpark
, but if you purchase a beverage in a glass container, it must be poured into a plastic cup.
Do you allow walk-in parties?
While we are happy to help you celebrate, if you do not have a birthday party reservation booked at least 48 hours in advance, please leave your cake, presents, and decorations at home!
How far in advance is a birthday party reservation required?
All Triple Play birthday parties must be booked at least 48 hours in advance.
Can I pay just to rent the tables and not have a party package?
Party tables are a benefit for booking birthday party packages and cannot be rented separately.
Is the birthday child included in the 8 guests?
Yes, the package covers 8 people that are participating in the activities.
Can adults be included in the 8 guests?
Absolutely. Anyone participating in the birthday party can be included in the package and there are plenty of activities for adults to enjoy as well.
Do you charge for those who just want to be at the party but not play?
Non-participants do not need a pass just to watch. Please note that the tables in the party area seat a maximum of 12 total, so if you have more than 12 participants and non-participants combined, you will have to reserve and additional set of tables for $109 +tax.
Where do I check-in for my party and where is the party area located?
Both the birthday party check-in and the party room are located downstairs by the arcade.
Will there be other parties in the party area with me?
Yes, you will be in a community party area.
What's provided with my table?
We provide big plates for pizza, small plates for cake, cups, napkins, and forks. One table is draped in a butcher paper table cover and will have a basket of crayons with it so the guests can draw on it. We even have cake servers and lighters you can borrow if you need them!
Can I store my things at my table throughout my party?
Your package includes 1 hour at the reserved table, therefore there may be other parties using that table before and after you. We recommend keeping presents in the car (we have lockers available to rent as well) and we can store your cake and ice cream for you.
My guests will be arriving before I do, can they pick up their passes before I get there?
That can be arranged as long as full payment is received before your guests arrive.
Does the time for the attractions (4 hours with the Extreme and Ultimate parties) start when I arrive?
Upon arrival your party will receive wristbands and Fun Cards. We scan the Fun Cards at every attraction you do. As soon as the first card is swiped at the first attraction you choose, the timer starts on all the cards.
We don't allow outside food or drink except for cake and ice cream (reserved birthday parties only). Birthday parties can purchase discounted pizzas and pitchers of soda. We have gluten-free pizza for those with dietary requirements!
Do I have to be staying at the hotel to use the facility?
No, you do not have to be a guest of the Triple Play Resort Hotel & Suites to play at our park, though the hotel does offer packages for those who wish to stay!
Can we charge items to our hotel room?
The Triple Play Resort Hotel & Suites is a separate entity, so we cannot charge items to your room.
Can I purchase a gift card?
Gift certificates are available on our website in $50 increments. You can stop by our bowling desk during our regular business hours to purchase a gift card in other amounts.
How can I check my gift card balance?
You can check the balance on your gift card by scanning the QR code on the back! Dollar amounts and ticket balances never expire.
At what age can a child be unaccompanied by an adult?
Children under the age of 16 must be accompanied by an adult.
What are the available options for children under 3 years old?
Ages 2 and under can do the following for free with a paid adult: play indoor and outdoor mini-golf, assist with bowling (bowl on someone else's game), climb the tykes course portion of the ropes course, and swim in the children's aquaplay area in the waterpark.
Ages 2 and under are free with a paid adult. They can only be in the children's aquaplay area (they cannot go in the wave pool or hot tub).
Should I bring my own towels?
We do have towels available to rent at the counter in the arcade, however you are welcome to bring your own if you prefer! Hotel guests can pick up towels for free from the hotel's front desk.
We have lockers available to rent from the cashier in the arcade. Lockers are located in the arcade and in the waterpark. We offer single-time use lockers as well as all-day lockers!
Do I need a waterpark pass just to watch from the sidelines?
You can be in the waterpark without a wristband, however, if you plan to be in the water at all, you will need a pass.
What can we wear on the water slides?
Appropriate swimwear is required, and subject to park approval. No bikini thongs, jeans, pants with rivets, belts, buckles or chains. For rider safety, you may carry sunglasses and water shoes down the slides, but not wear them.
What methods of payment do you accept?
We accept Visa, Mastercard, Discover, American Express, and Cash. We do not accept personal checks.
Do you sell passes in advance?
With the exception of special event tickets, we do not sell passes online or in advance.
Do I need to make a reservation?
We do not take reservations for general guests or attractions. For birthday parties, reservations are required at least 48 hours in advance.
Does Triple Play offer a military discount?
Military personnel who present their military ID at the ticket counter will receive a 10% discount on all-day passes, waterpark passes, and individual attractions. It cannot be combined with other discounts such as birthday party packages, group rates, or fundraisers.
What is Triple Play's refund policy?
No refunds except within 30 minutes of the sale.
Can I reserve bowling lanes?
We cannot hold bowling lanes unless you have a reserved Extreme or Ultimate birthday party or a bowling group. Bowling groups are only available Sunday-Thursday evenings.
For safety reasons, only service animals are allowed inside the park. For the health of your pet, please do not leave them in your car while visiting our facility. There are several, great doggy daycares in the area!
Can I leave the park and get back in?
Absolutely! Guests with wristbands must keep them on to be able to continue playing when they return.
Triple Play Family Fun Park and the Triple Play Resort Hotel & Suites are approximately a 45 minute drive East of downtown Spokane and just right out of Coeur d'Alene. We are only 10 miles South of Silverwood Theme Park too!
How can I get additional questions answered?