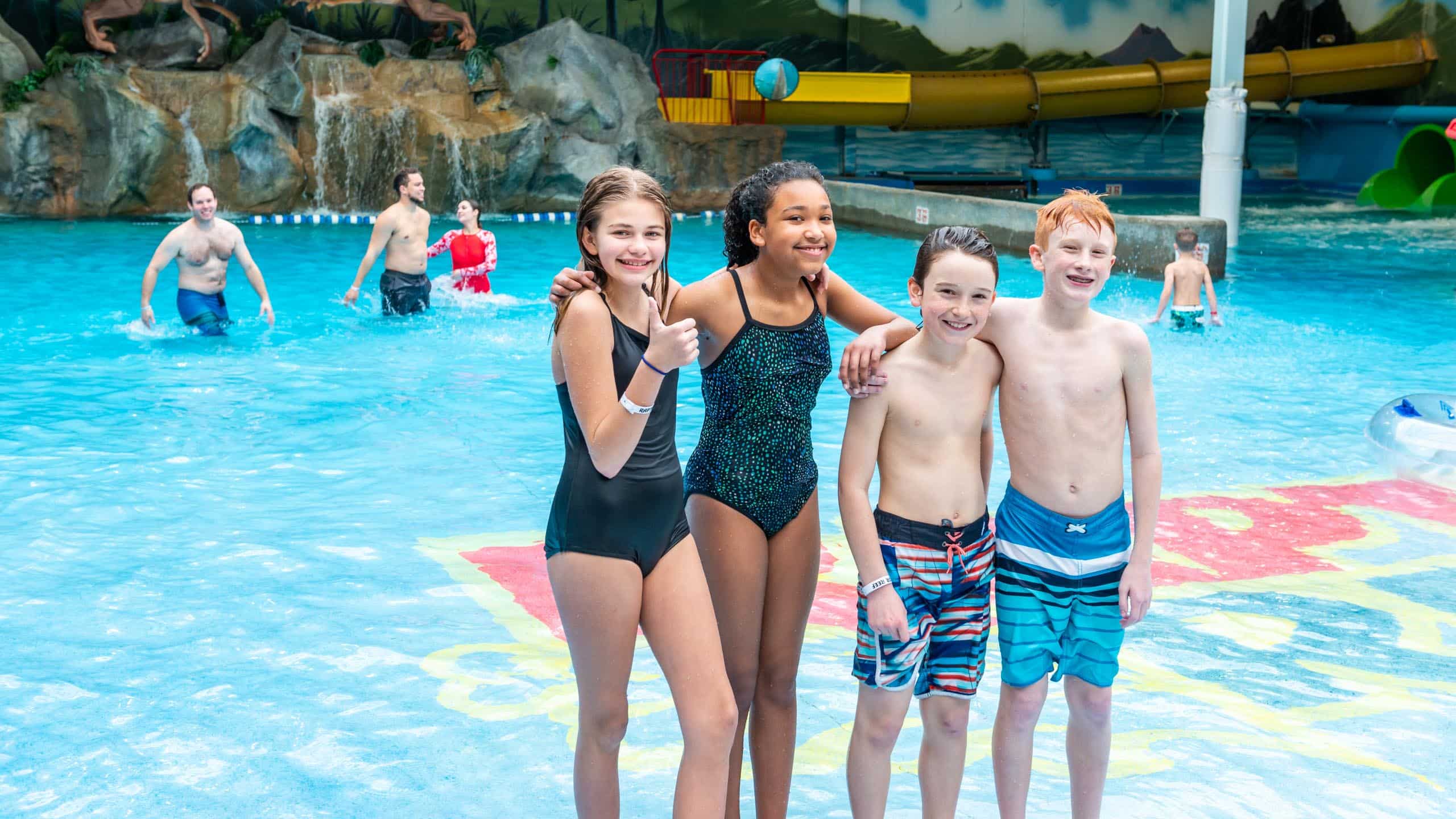 Plan Your Visit
Policies & Restrictions
Waterpark Restrictions
Check waterpark hours of operation.
No Restrictions for guests 48″ and taller.
Guests who are between 42″ and 48″ are limited to Body/Mat Slide
Only those 42″ and above can ride tube slides with an adult rider or responsible teenager.
Those under 42″ are restricted to wave pool and water play area only.
Weight limits on the tube slides are: Individual – 300lbs, Combined – 400lbs.
Weight limit on the body/mat slide is 300 lbs.
Children 2 and under and non-potty trained children are restricted to the children's play area only. (can not go in wave pool or hot tub)
All children 2 years and under must wear approved swim diapers potty trained or not.
Waterpark lifeguard to make height determinations.
Proper swimwear must be worn. No thongs or immodest swimwear. Swimwear with exposed metal, rivets, denim, or metal ornamentation is not permitted.
Some life jackets are available for your use, or you may bring your own.
Changing rooms are provided and lockers can be rented.
Please do not leave valuables unattended.
Children under 3 are not permitted in the hot tub.
The toddler area is reserved for children 4 years of age and under.
Children 3-12 years of age MUST be with an adult in the hot tub.
There is a 10 minute limit to all children in the hot tub (for health reasons).
No swimming, splashing or jumping in the hot tub.
Balloons cannot be brought into the waterpark.
House Policies & Restrictions
To ensure your safety please follow all posted rules and warnings.
We Cannot Allow the Following:
Outside food and beverages (alcoholic & non-alcoholic)
Walk-in birthday parties (please leave cake & decorations at home if you did not reserve a party package)
Photocopies of any coupons
Loitering
Profanity or unruly behavior
Smoking
Gum
Weapons of any kind
Offensive or gang-related attire
Minors 15 years & younger without an adult
Skates or skate-type shoes
Pets
Policies:
Shirts and shoes are required.
We reserve the right to refuse admittance to anyone or to dismiss unruly guests.
Use this facility at your own risk.
Triple Play is not responsible for lost, stolen or damaged property.
Must be at least 58″ to drive the go-karts (40″ to be passenger). Weight limit is 300 lbs.
Must be at least 44″ to drive the bumper boats (40″ to be passenger). Weight limit is 275 lbs.
Must be at least 44″ to drive the bumper cars. Weight limit is 275 lbs.
Must be at least 48″ to use the ropes course alone (42″ with an adult). Weight limit is 300 lbs. Must be under 48″ to use the tykes course.
Closed heel shoes are required for the ropes course.
Clothes must be dry to go on the ropes course, go-karts, and bumper boats.
Ages 2 and under are free with a paid adult, but have limitations on what they can do. Along with the previously stated waterpark restrictions, ages 2 and under can assist with bowling, climb the tykes course portion of the ropes course, play mini golf, play the laser maze, and be a passenger in the go-karts and bumper boats if 40″ or taller.
Questions
For questions regarding our restrictions & policies, please reach out to us directly.