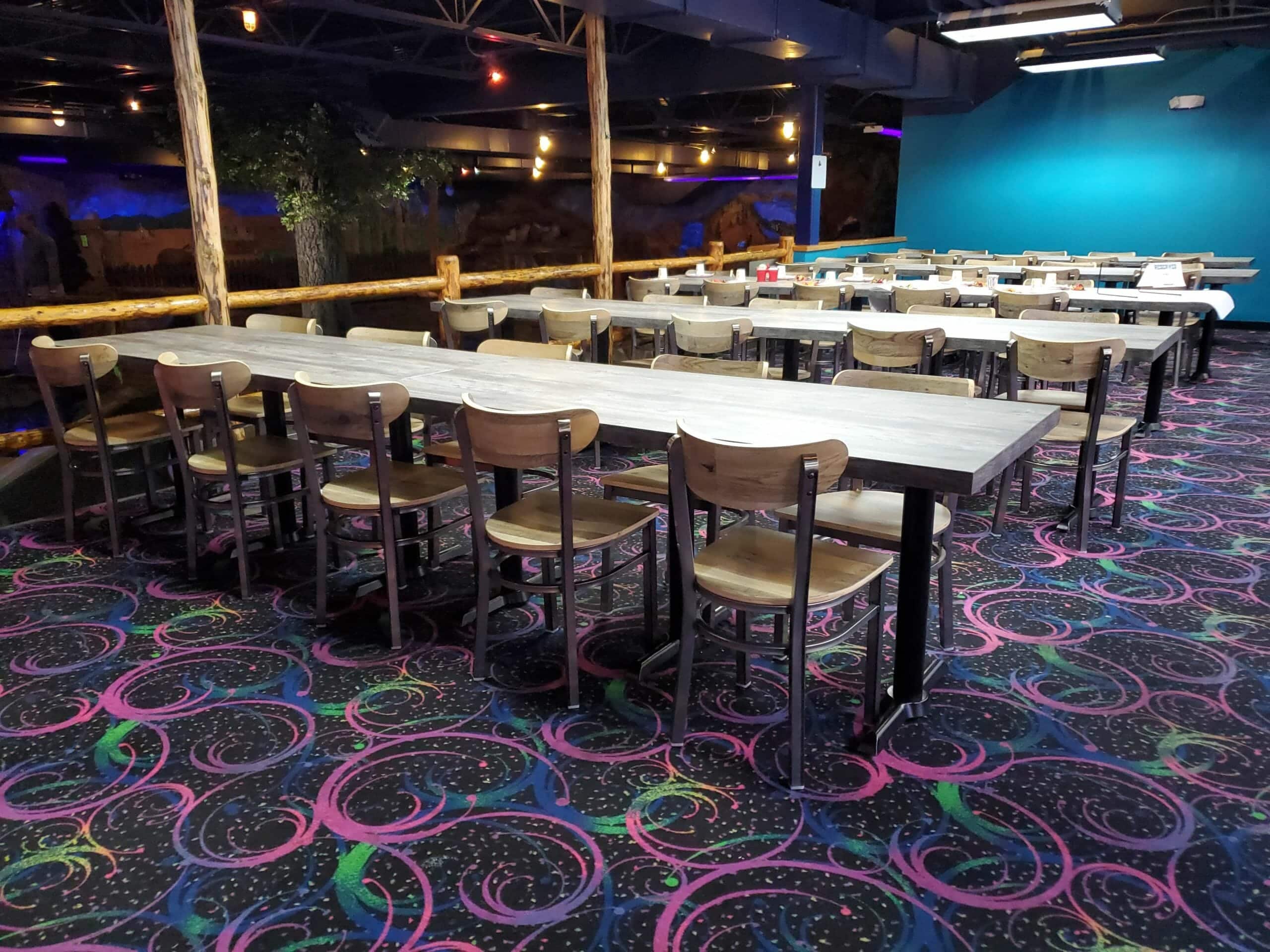 Birthday Party Agreement
Read & agree before you book
Birthday Party Agreement
The table reservation is for one hour in the party area and cannot be extended.
The reserved tables can only seat up to 12 guests (everyone must be able to be seated to not block walkways).
Only up to 12 guests will be permitted in the party area unless an additional set of tables is added for $109 +tax. The additional set of tables will provide seating for 12 more people.
If 16 people are playing, it is best to reserve 2 packages (reserve one package, then email vanessa@3play.com to add a second one).
Birthday cake, presents, balloons, etc. are only allowed in the party area. When the table time is up, we can store cake, balloons, and leftover pizza.
Check-in is recommended at least 20 minutes prior to the table time to place the pizza order.
Birthday party packages do not include access to axe-throwing, the Hologate VR arena, or the zip ride.
Friday nights and Saturdays can be extremely busy; high wait times are expected for most attractions.
On weekdays during the school year, many attractions operate on a schedule and Raptor Reef doesn't open until 3:00 pm.
Towels are available to rent for $2 +tax each, but it's recommended for guests to bring their own in case we run out.
Birthday party packages must be booked at least 48 hours in advance.
A $25 deposit will be taken at the time of booking. That deposit is refundable as long as the party is canceled at least 48 hours in advance.
The birthday party packages are as-listed and cannot be customized.
We do not allow outside food or drinks (except for cake and ice cream).
Confetti, party poppers, and silly string are prohibited.
Triple Play Birthday Party Agreement
Before booking, you must understand and agree to the following items.
Planning a larger gathering of friends and family who will not be playing? Email Nicole for information on meeting spaces at the Triple Play Resort Hotel & Suites. Book your play package with us, just let us know in the comments if you do not plan on using our tables so we can be sure to have all of your amenities ready when you check-in.
Tips & Tricks for Extreme and Ultimate Packages
Birthday parties can reserve bowling lanes! Ask your Birthday Hero to make a reservation for your party.
You can start bowling near the end of your 4 hours of play to extend your time!
To make the most of your attraction time, finish your arcade play before starting your first attraction or save arcade play for when your timer is up.
Click the pictures below to find out what you can expect during your party!