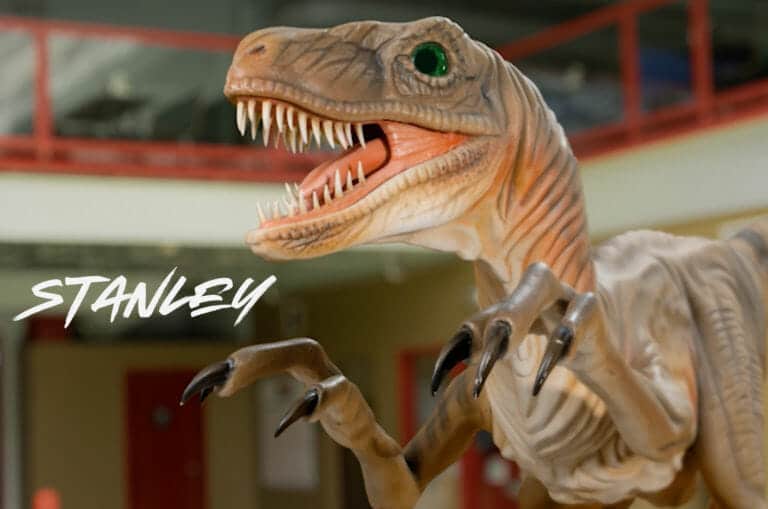 Hello, fellow thrill-seekers! It's me, Stanley the Raptor and I'm here to tell you about the upcoming events at Triple Play Family Fun Park!
Who's your favorite velociraptor? Don't worry, I won't be upset if you say Blue or Roy (although deep down, you know it's ME). Well, Tuesday, April 18 is Velociraptor Awareness Day and we are celebrating by giving away a dino-tastic raffle basket at Supper with Stanley!
Whether you're looking for a great deal or you just really love pizza and dinosaurs, Supper with Stanley is a great option for it all! $15.95 +tax per person includes 2 slices of cheese or pepperoni pizza and a medium soda served from 5-6pm while I roam around, waiting to take pictures with you and your family. I do take a quick break in the middle (being a dinosaur is HARD WORK), but I will come out for a second round before 6pm.
When you finish your meal, you can spend the rest of the night in my home, Raptor Reef Indoor Waterpark!
Remember that raffle basket I mentioned before? My handlers will be drawing and notifying the winner the next day!
This is one of the few opportunities I get to meet my fans, so I hope to see you there to celebrate Velociraptor Awareness Day!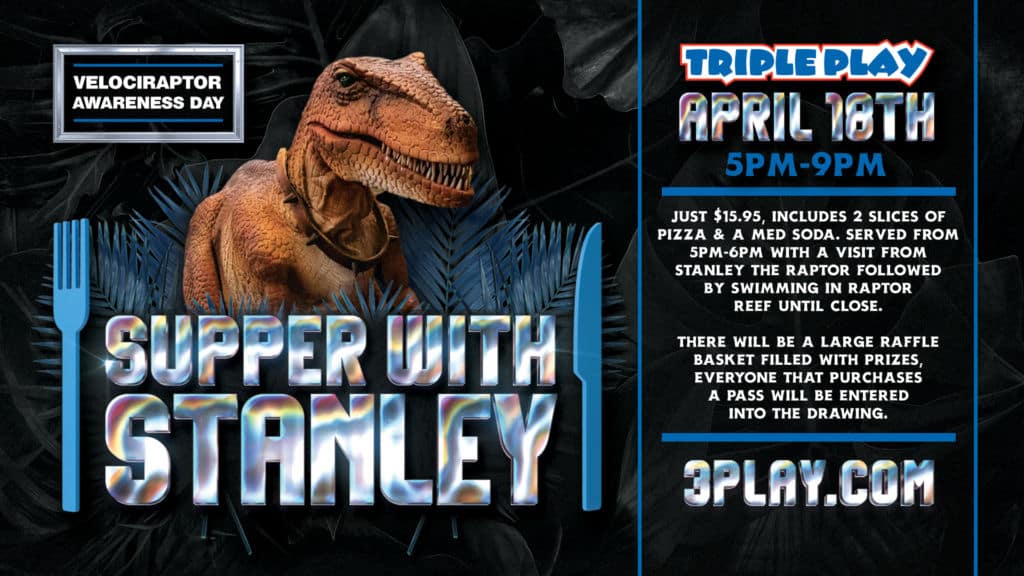 Every once in a while, I get the opportunity to leave Triple Play and explore the outside world. I will be attending the Post Falls Business Fair on April 25th! My handlers will be with me with goodies and information about Triple Play Family Fun Park. I hope you stop be to see me and all of the other wonderful businesses in our area!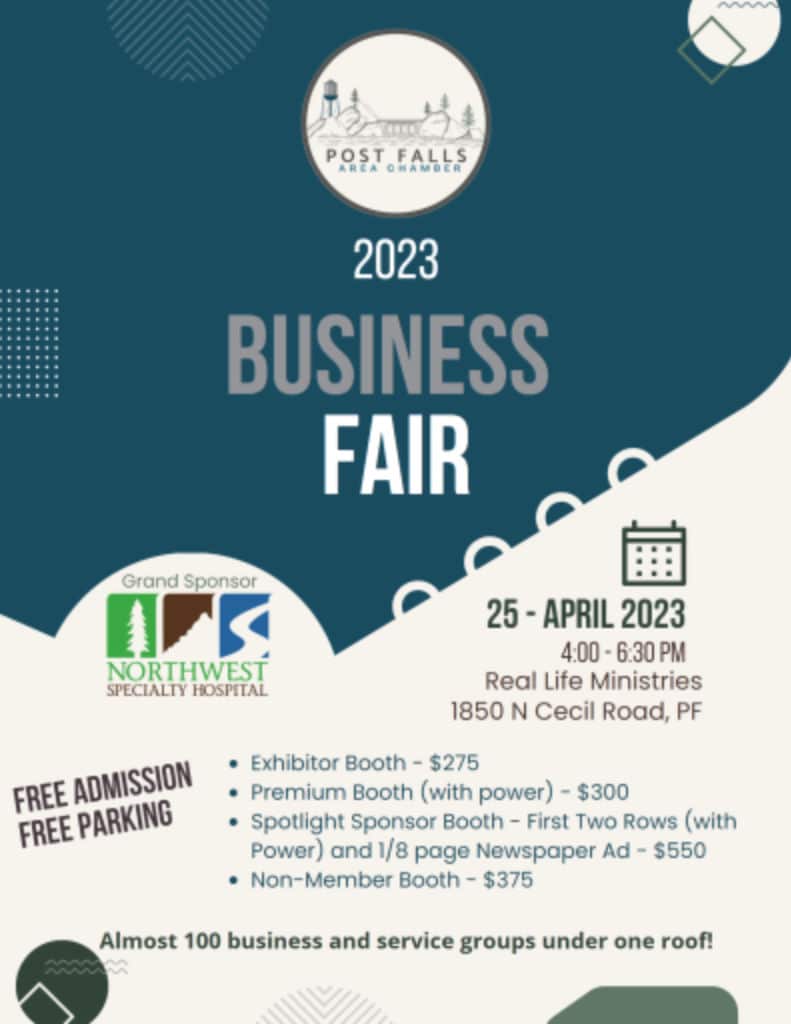 Cue the Imperial March and make way for Darth Stanley! It's Park After Dark: Revenge of the 5th!
This event is for ages 18+ (don't forget to bring ID!) — it's going to be out of this world! For only $25.95+tax, you'll have access to all of the park's most exciting attractions, including bowling, laser tag, laser maze, RAID, Nebula Drop, XD Dark Ride, bumper cars, indoor mini-golf, and the ropes course. And if that's not enough to get your adrenaline pumping, you can add axe throwing for only $5 each!
The event starts at 10 pm and runs until 1 am, so you'll have plenty of time to experience all of the thrills that Triple Play has to offer. And to make the night even more exciting, our kitchen will be serving themed food and drink specials!
But wait, there's more! The night will be filled with Star Wars-themed fun, including a costume contest where you can show off your best Jedi or Sith outfit. And each ticket includes entry into our raffle for a chance to win some awesome prizes!
To get you in the mood for the event, Triple Play will have Star Wars decorations up for two weeks leading up to the event, so you can get hyped up for the intergalactic fun that's in store for you. And of course, there will be plenty of photo ops with cardboard cutouts of your favorite Star Wars characters.
So mark your calendars for May 5th, and come join the Triple Play team for Park After Dark: Revenge of the 5th! It's going to be an unforgettable night filled with excitement, adventure, and maybe even a few surprises. See you there, and may the Force be with you!