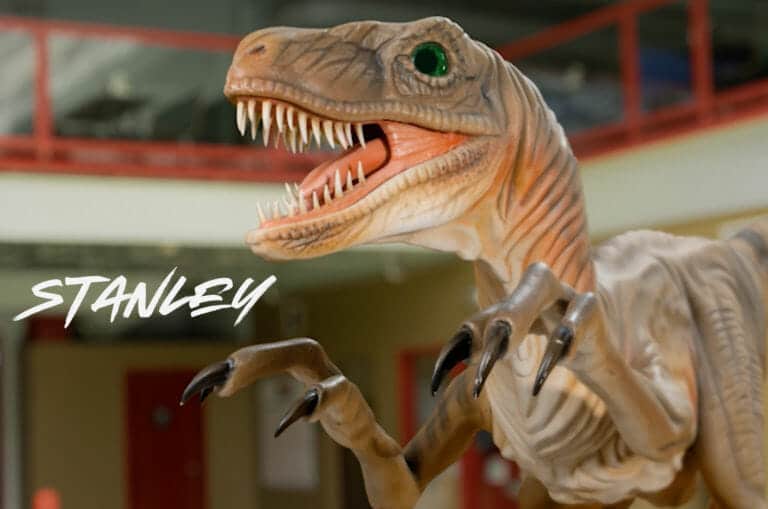 Welcome back Friends! It's your favorite dinosaur pal, Stanley, here. I'm back to catch you up with all the fun Triple Play activities going on.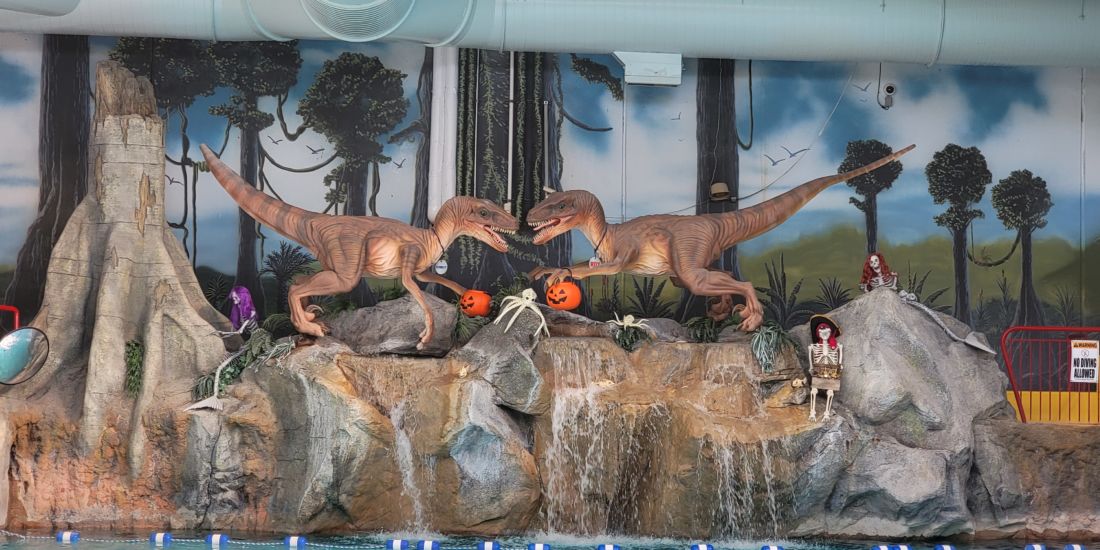 One of my FAVORITE holidays has finally arrived…….HALLOWEEN! We always get in spirit around here for this season and it's when the MONSTERS take over attractions. Scary…
With the monsters taking over, they took every attraction and made it THEIR OWN.
Here is what we have now:
● Fortune Teller Bowling
● Spider Infested Ropes Course/Laser Maze/and R.A.I.D.
● The Potion Brewery Kitchen along with the Witch Coven Dining Area
● Dracula's Lair in Bumper Cars
● A Biohazard Zombie Attack at Axe Throwing
● An Alien Invasion at the *NEW* Nebula Drop
● And MUCH MORE!
(Pssst… They are all friendly and just as happy to meet you as I am)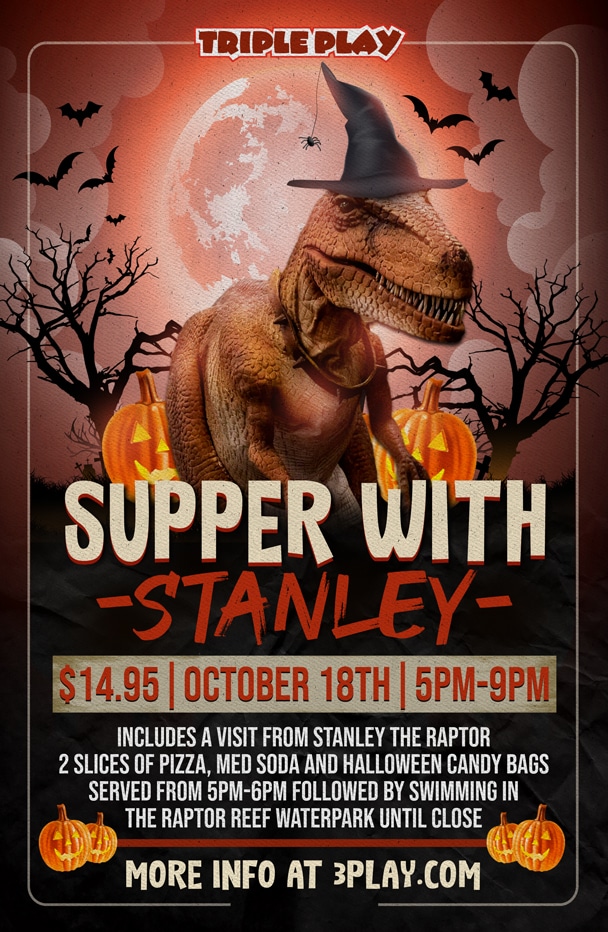 As always, I would love to have you come and celebrate your birthday with me and have dinner with me the third Tuesday of every month (hey, that's TONIGHT).
I also have SO MUCH NEWS to share with you guys. So, follow me as I explain what scary stuff we have planned for YOU!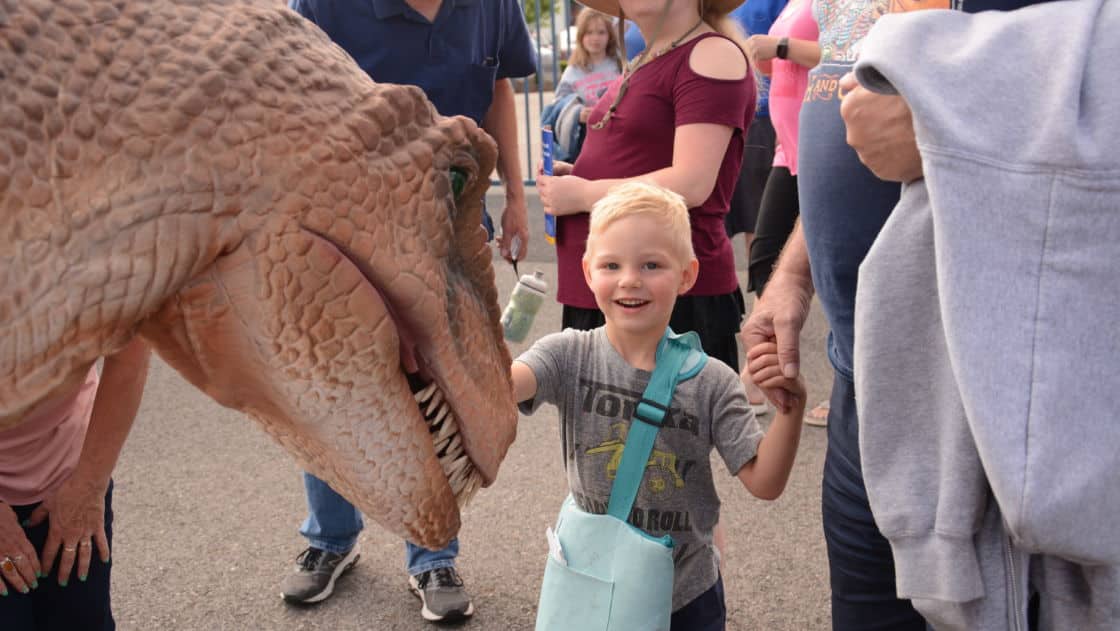 Raptor on the NEWS…
You heard me right, kids. On Thursday, October 20, we are joining KREM 2 News and Nom Nom Stores at their 3rd annual Big Book Giveaway.
I'm so excited to be doing this for the kids in our community. It makes me want to do my pizza dance. The best part about this whole process is YOU can be there to witness the experience. This is a community event where books will be handed out to kids kindergarten through 6th grade (at ZERO cost).
I will be there handing out books from 3pm – 5:00pm for any kids willing to participate. I really hope to see YOU there, so we can both roar in the support of books in our community.
For more information on this event, please contact us HERE and we will answer all necessary questions.

Ages 18+, Park after Dark…
Stay up late with TC from 93.7 The Mountain on Friday, October 21st for Park After Dark!
Sorry, kids. This night is for the ADULTS to come out for a night of fun and to finally indulge in the Halloween kid spirit they left behind years ago.
Your Park After Dark pass will include entry into our raffle with a prize sponsored by Elysian Night Owl (plus a different prize for those under 21) and we will be having a costume contest at 11:30pm.
Tickets for this event are available to purchase here (online pre-sales will end October 21 at 5pm but will be available at the door). Tickets are $24.95 +tax and include a Park After Dark flashing cup while supplies last!
Hey!
Tonight, 10/18, three Park After Dark baskets will be hidden in our local area!
Each basket contains a pair of Park After Dark tickets and some other goodies. There will be one basket hidden at a park in Hayden, one hidden near a shopping center in Post Falls, and one hidden on a beach in Coeur d'Alene (in that order). We will begin hiding the baskets around 6:30 tonight. Watch our Instagram and Facebook stories for picture clues and claimed baskets.
As always, if you are a lucky winner, please pose with your basket, take a pic, and send it to us on Facebook or Instagram @tripleplayidaho.

Our Halloween Party…
This Saturday, October 22nd, Triple Play is throwing their Annual Halloween Party where there is Trick or Treating, a Black Light Atmosphere and a Costume Contest with a $150 1st PLACE PRIZE from 93.7 The Mountain!
The contest will be separated by age where at 7PM will be for Ages 10 & under and at 8PM is for anyone Ages 11 or older (only guests who purchase the Halloween Party Pass can participate).
Hosted by Jamie Patrick, of 93.7 The Mountain, and sponsored by PepsiCo and McDonalds, it will be a night of screams and fun you will surely remember.
McDonalds themselves will be here with goodies for trick-or-treaters and there will be candy at each attraction for those who are trick-or-treating.
Click HERE to learn about pricing and much more…
Conclusion…
I have so many events to attend this month and I hope to see all of YOUR amazing faces at them.
Along with all the events, there will be a hunt closer to Halloween Night where baskets with waterpark passes will be hidden around North Idaho. Watch our Facebook and Instagram stories for those clues!
Also, just a reminder for all my friends, Starting October 31st through November 11th, Roy and I will be in hibernation and the Waterpark will be closed.
Come to think of it, I think I hear the waterpark getting ready to open for today, so I have to get going.
I've had such a fun time relaying this information to you again and remember to come check up on ALL the new information going on at Triple Play here every other Tuesday.
If you want to come into Triple Play soon, Click Here to take a look at the prices and day-to-day hours.
Have a lovely day and I hope to be roaring through the park with all of you later!